iOS 11 Disable Screenshot Preview – Left Bottom Corner Preview (Annoying)
The latest iOS creates a photo preview whenever you take screenshot. Screenshots appear in the bottom left corner of your device each time you do this. Some like this and some do not. Unfortunately, there is no way to disable this feature as Apple has not included an on / off button for this type of preview. However, you can quickly swipe away those previews by follow the steps below.
After taking a screenshot in iOS, you see the preview in the bottom left corner.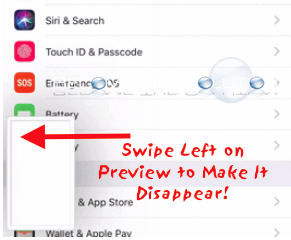 Quickly swipe left on the preview to forcefully make it disappear.
If you know of another way to remove or block the screenshot preview this feature altogether, please use the comment form below and let us know.