Fix: Connection Error Engine Not Loaded 183 – Citrix Receiver iOS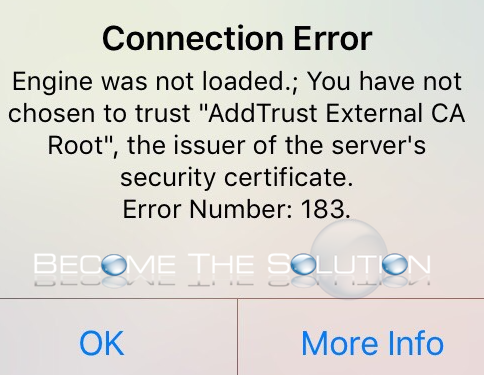 While connecting to Citrix on your iOS device (iPhone/iPad), you may receive the following error.
Connection Error
Engine was not loaded; You have not chosen to trust "AddTrust External CA Root", the issuer of the server's security certificate.
Error Number: 183
This error is documented by Citrix support.
The fix is available in iOS Receiver 7.1.1 which is now available for download from appstore.
*Receiver for iOS can exit unexpectedly if you add a new user account as part of the first-time Receiver setup. This issue occurs only on iOS 8.1.x.
*An SSL handshake Error 183 can occur when you connect to a Receiver session. This issue affects mainly iPad 2, 3, and 4.
*When you click the Windows Start menu using an X1 Mouse, the Receiver extended keyboard appears. The extended keyboard bar obscures all or part of the Start menu.
If you are running the latest version of Citrix receiver, re-install it and try again.
* Please use the comment form below. Comments are moderated.*
Comments
No comments made yet. Be the first to submit a comment