Fix: Warning: Your Current Bloomberg Connection May Limit
If you are working in Bloomberg terminal, you may randomly receive an error message stating the following:
WARNING: Your current Bloomberg connection may limit real-time data access (e.g, market data or news images). Contact the Bloomberg Help Desk to repair your connection.
Subsystem: API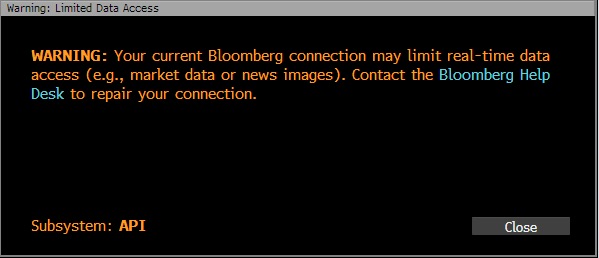 This error is likely due to a network interruption with the Bloomberg terminal application either over Private IP or Internet IP connection. Call Bloomberg support 212-318-2000 to ensure there are no drops in your connections from Bloomberg to your Bloomberg terminals. You can also request a utilization report to see if you hit your allow bandwidth capacity.