Today, the online reputation of businesses is essential to the success or failure of one. Online reviews are critical to business' images and depending on the review source, it may not be easily edited or removed – forever. Business owners should carefully evaluate all online review sites that potentially host reviews. You can find more types of these sites later in the article. The most popular consumer review site today is Yelp.com.
I host and help run several business websites that use Yelp for reviews. This article will discuss the process of claiming a Yelp business page and the criticism-surrounding Yelp as a review business.
In order to gain access to Yelp business tools, you must verify the business you're representing by "claiming" or "unlocking" the Yelp business page.
Claiming a business usually means it hasn't been managed by someone on Yelp before. Claiming will involve verification, such as an automated phone call to the business number on file in the Yelp listing or an email verification matching the domain name of the business website. Verification is instantaneous (Yelp won't make this hard!).
Unlocking a business means the business has already been claimed. In order to manage the Yelp business page, it must be "unlocked". There's several ways Yelp can help do this for you, but generally you must provide tax documents or proof of address ownership. This process can be lengthy since you're actually dealing with a Yelp human (I think).
The Yelp for Business Owners page allows you to manage reviews, create sponsored ads, manage photos, menus, respond to personal messages, edit business listing information, and more. You can see statistics such as visitors and their demographics being led your website link (if you have one added).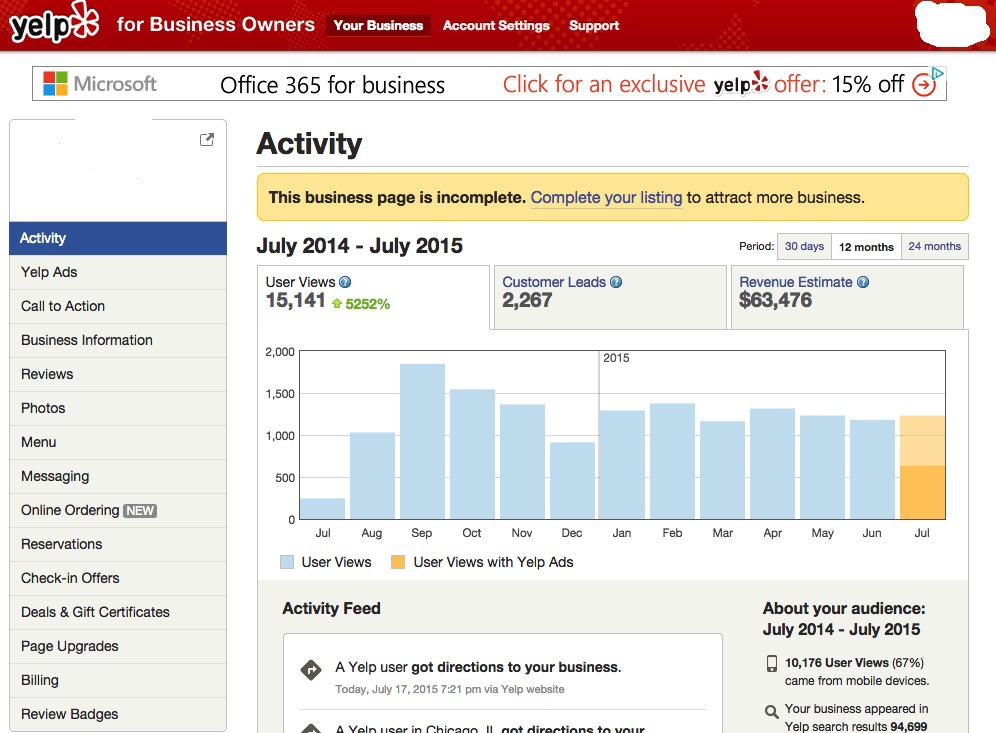 So this is great - as it seems – a simple storefront users can leave reviews of their experiences with your business and have them all easily be managed by a 3rd party in which you can login into and respond on behalf of. Right? Let's break it down.
Why? Did you have the option of submitting your business to Yelp? Yes, you did. However, Yelp is ALWAYS finding out about new businesses and submitting them manually into their website without anyone's consent.
So, I want to remove my business from Yelp whether I submitted it or I didn't. Here's what Yelp says:

It's not an answer and it's not a choice. Your business will stay with Yelp.
Ok, so I want to/hopefully get great reviews so I have that 5-star average in Google's search, since my Yelp page is now showing right under my website in Google search (or as a top search result in some cases).
The bottom line is anyone can review your business, whether you've provided him or her services or not. Fact - I can review a business as "Joe Blow", give a a one-star review, discuss why I was displeased, and post. Only reason why I posted this review because I know the owner of the business and I don't like him, so screw him. My review get's published immediately (because I'm already an active and reputable Yelper) and I saw the business overall star ratings drop a half star! Yes!
As the owner of the Yelp business page, I get notified via email of the review. I don't recall the services I provided this person; however I'm going to do 2 things off the bat in effort to get them to change their review – make a public comment apologizing and private messaging the user to understand better when/where/what/why. After I did this and waited a week, they never reply back and the review still stands on my page.
Now, I'm going to submit the review as false information. And as soon as I flag the review as such I get stuck with this message from Yelp: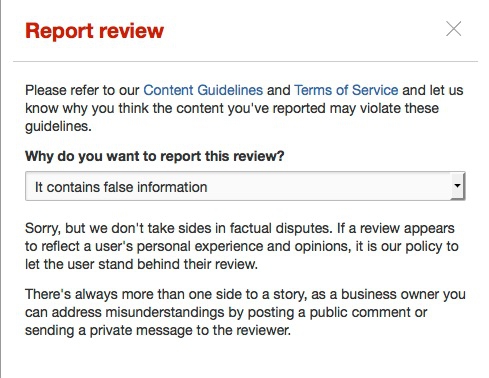 Wow. So the review must stand per Yelp. Not factual, not honest, bad business. Period. A WASTE of my time and effort.
So I'm a small business that does a few projects each month. Maybe once in a few months someone will write me a review. For now, this 1-star review will saturate my business' rating per Yelp in online searches, such as a Google. Searching my business online, particularly in the worlds most used search engine Google will reveal my business is 1 star per Yelp. This is the 2nd search result displayed by Google. This is NOT accurate!

Reviews that are not currently recommended


At the bottom of every Yelp business page are reviews that are hidden and filtered from the overall star rating. These reviews Yelp considers manipulated in some way thus making them inaccurate. So why keep them filtered for Yelper's to voluntarily read about and learn fake information regarding or why not remove them? I don't know.
I had 2 5-star reviews filtered for 4 months. The reviewer's icons showed that they purchased my business "yelp deal" and checked into my establishment! But these reviews must be fake right!?

How Yelp makes its money?

Yelp Ads
A scheming way Yelp makes it's money is through it's ad's program. Usually, as soon as you signup your business on Yelp you'll be contacted by a troll to "advertise" with Yelp. They will offer you up to $1000 in free advertising.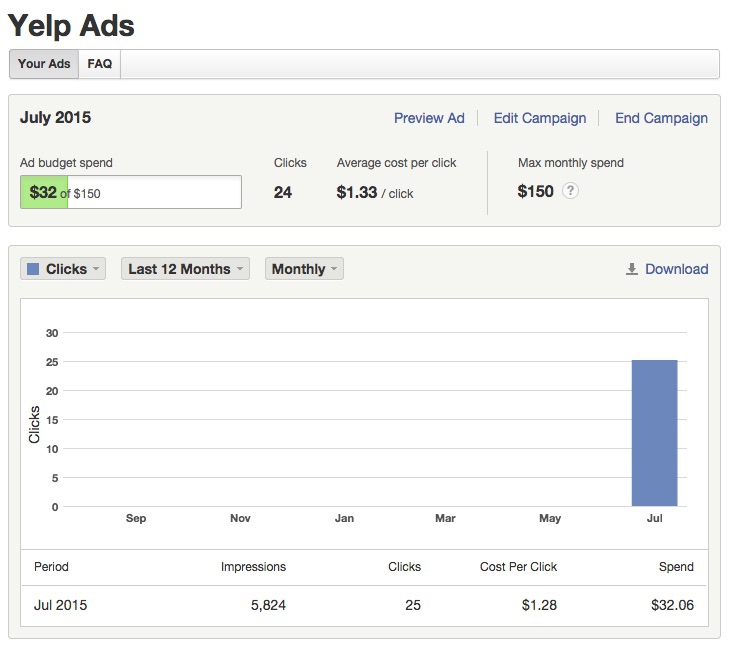 So you start an ad campaign, which is very simple and unwelcoming. Within the ad you are not even able to set a picture of your business. You review your "ad" performance and you're getting impressions and clicks. How the hell do you know that? Just by Yelp's performance report? There's no way to validate the Yelp ads scheme. Yelp is eating your money.


Google AdSense / Advertisement Space
I'm pretty sure Yelp is excited when it comes to their Google AdSense contract. They put the maximum 3 ads on every single page of Yelp. If your business doesn't have a website but has Yelp page, Yelp is the first hit in Google search results (likely the result of Yelp's contract with Google). Yelp is making money off your business by customers going to your Yelp page and generating ad impressions and clicks. You'll never know how much they're making either. Did you consent to them putting advertisements next to the product you feature?
From the article below, Yelp is the 35th most visited website in the US. That's a lot of ad impressions/clicks. Good job US businesses!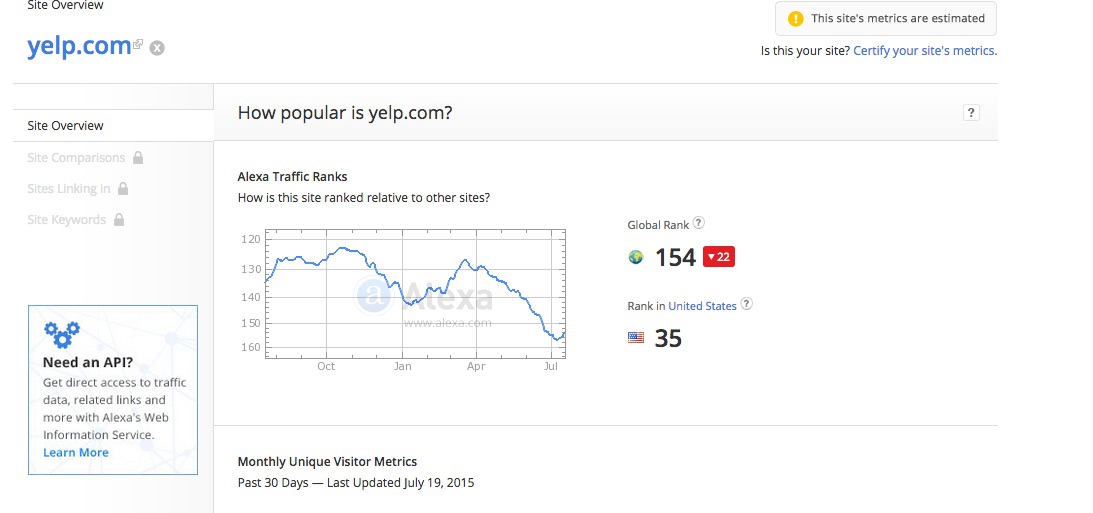 Simple Overhead
I don't know specifics on Yelp, but they don't need/have an office. They have petty sales people (probably hourly wagers) that email/call you to follow up on how they can enhance your online presence with Yelp Advertising. They don't have a mailing address. There is one number to reach them at and 9 times out of 10 you can't get through or get an automated response. Yelp lives in some data centers probably totaling hardware value under 50k.


Google ranking/page ranking/backlinks


Yelp's most important strategy is its SEO (Search Engine Optimization). I'm not sure how it aligns specifically, but Yelp must have some policy with Google that allows them to always be first or second in search terms for businesses.
Review websites open the door for unlimited backlinks too. A backlink is a link to another website from another website. So, all the Yelp reviews accumulating create more search terms for your business on Yelp's page. Those search terms get indexed with Google. Eventually, your website might get equally or more traffic to your Yelp page – that's bad business.


Yelp Support Contact Story
When I first began managing Yelp business pages, I carefully evaluated every review I was written. I had over 300 reviews left for one of my businesses and I read them all. 21 reviews were advertising another business, falsely accusing, using bad language/swearing, reviews that did not mention any part of the business, or review naming someone. All of these types of reviews "violate" Yelp's guidelines.
I submitted 21 Yelp support requests. It took me about 3 hours to submit them and write my claim. Yelp responded within 1 day and refused to remove any of the reviews. I contacted my "Yelp account representative" on this and their response was:
"Thank you for your email.
Please note that, because we're on the advertising side, we don't have manual control over any reviews. In this case, there are two possible solutions I'd recommend.
First, you can always create a public comment to the review you see on your listing. In this situation, it's a good idea to make a public message that lets your potential customers understand that you're not associated with those reviewers.
Second, you can submit that review to our user-support team, who can see if it violates our terms of use and potentially remove it. I'll leave the steps to contact them below:"
Automated response garbage. I would love to share the support request's number and name of representative.
In summary, it's important to recognize Yelp's ultimate goal in representing your business. Yelp is making money off your business and you can't tell them to stop. You don't need Yelp to manage your own business reviews. Yelp will continue to saturate the Internet with its offerings; using it's reviews keywords that Google will index, virtually making the Yelp reviews indestructible from the Internet. This article is for awareness and to rise up against a money scam greedy machine, Yelp.com