Fix: Phoenix Android Radio Bluetooth Music - No Sound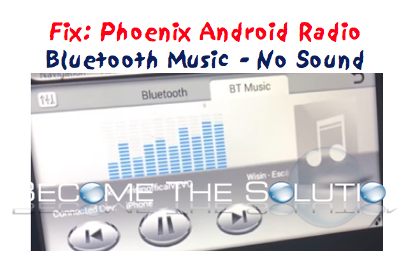 If you pair a Bluetooth device to your Phoenix Android Radio, you may not hear audio playing when you select BT Music. However, you see your device connected and playing audio on-screen.
*Phoenix Android Radio Forum - Installs, tips, tricks, features, photos, guides, reviews how-to's... *
Register @ https://phoenixandroidradioforums.com/
There is a bug in versions of the Phoenix Android Radio Operating System if you received or placed a Bluetooth phone call earlier, the Bluetooth call is overriding the BT Music and forcing the BT audio to be muted.
Connect a device to the Phoenix Android Radio phone Bluetooth and place or receive a phone call. You can immediately hang up afterword's.
Switch back to BT Music and play audio. You should hear audio and music again.
* Please use the comment form below. Comments are moderated.*
Comments There is a forum now for users and fans of Phoenix Android Radios. Includes reviews, installs, tips, tricks, features, photos... ​​​​​​​https://phoenixandroidradioforums.com/