Illinois Annual Business Renewal Steps - Secretary of State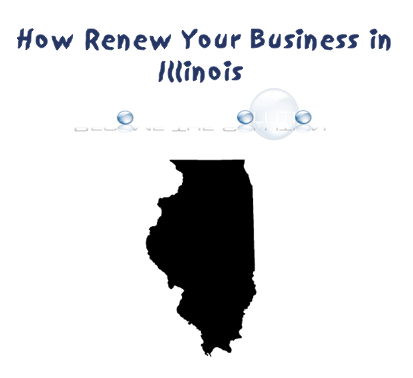 It's that time of year again! If you're an Illinois corporation in "good standing" with the state, then it's time to renew your corporation with Jesse White. This process is completed annually by filing a CDBCAF Corporate Annual Report form. The state will distribute this form to you by mail and by email to your business address listed. The process can be completed by mail or online. Remember, this form must be completed by February 1st.
Complete the Corporate Annual Report by Mail
The minimum filing fee with Illinois is $100.00. The required Illinois business filling fee is $75.00 and $25.00 is franchise tax. If you are like most Illinois businesses, this is all you will pay. However, if you have paid capital to report then then the form will need to reflect those gains accordingly. Make your payment check out to Illinois Secretary of State. Below is a sample copy of the CDBCAB form that is filled out by a business President and mailed back to Illinois with a filing fee.
Complete The Corporate Annual Report Online
The state offers Presidents to renew their business registration online as an extra cost. The cost is somewhat significant; however, the entire process is straightforward and much faster. The total cost breakdown will be: $25.00 Franchise Tax + $75.00 Filing Fee + $50.00 Expedited Fee + $5.00 Processor Fee = $155.00
Head to CyberDrive Illinois eServices -> Corp Annual report
Click "File"
You will need your Corporation File Number. You can look it up on the same screen if you do not know.
The next screen will ask you to confirm your business and reporting agent information. Click continue.
You will be asked some more information about your business.
At the end of your filing report, you will be able to remit payment and renew.
If your registered Agent address has changed since your last annual corporation filing, you will
first
need to file with the old address. After filing for the new year, you can update this information online at the
Corporation Name Change
site Cyber Drive area. This fee might be as much as
$77.
* Please use the comment form below. Comments are moderated.*
Comments
No comments made yet. Be the first to submit a comment