Contest City of Chicago Rush Hour Parking Ticket – Step by Step

Did you receive a ticket for a rush hour parking violation at a Chicago Park meter? Perhaps you didn't notice a rush hour sign or a sign was not properly displayed where you parked. In either case, contest the violation if a clear picture of a rush hour sign is not included in your violation notice when you search your violation online. Request an in-person hearing by mail.
Notification of In-Person Hearing
After you request an in-person hearing, you will receive a piece of mail confirming Hearing Date Options. You will have 1 week (your date will be shown) to visit a hearing center at one of the current Chicago hearing locations. See reverse city of your hearing notice.
North:
2550 W. Addison
Hours: 8AM – 6:30PM (M-F)
South:
2006 E 95th St.
Hours: 8AM – 4PM (M-F)
Central Hearing Facility
400 W Superior, 1st Floor
Hours: 8AM – 4:30pm (M-F)
Hours: 8AM – 3:30pm (SAT)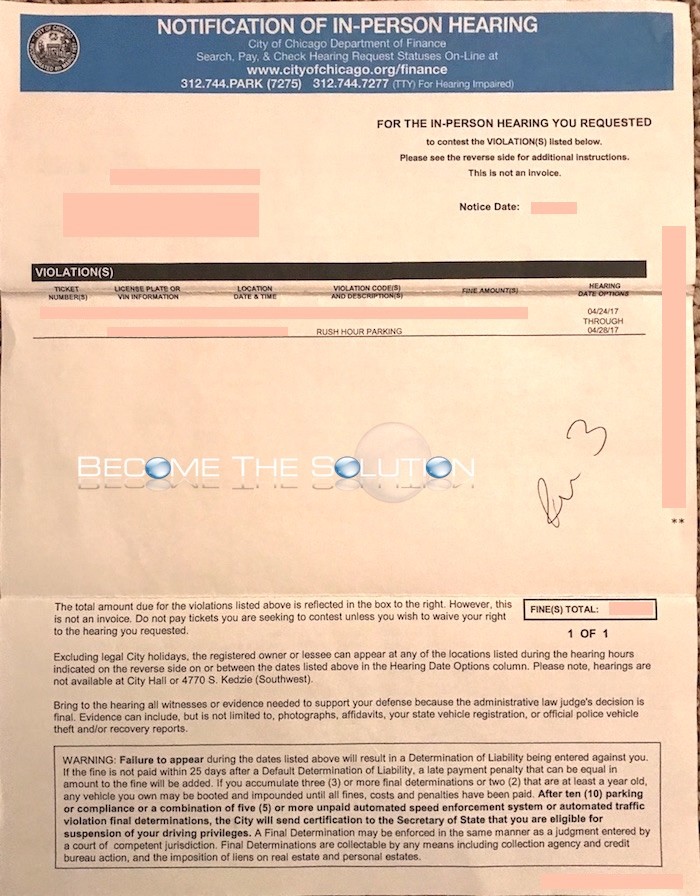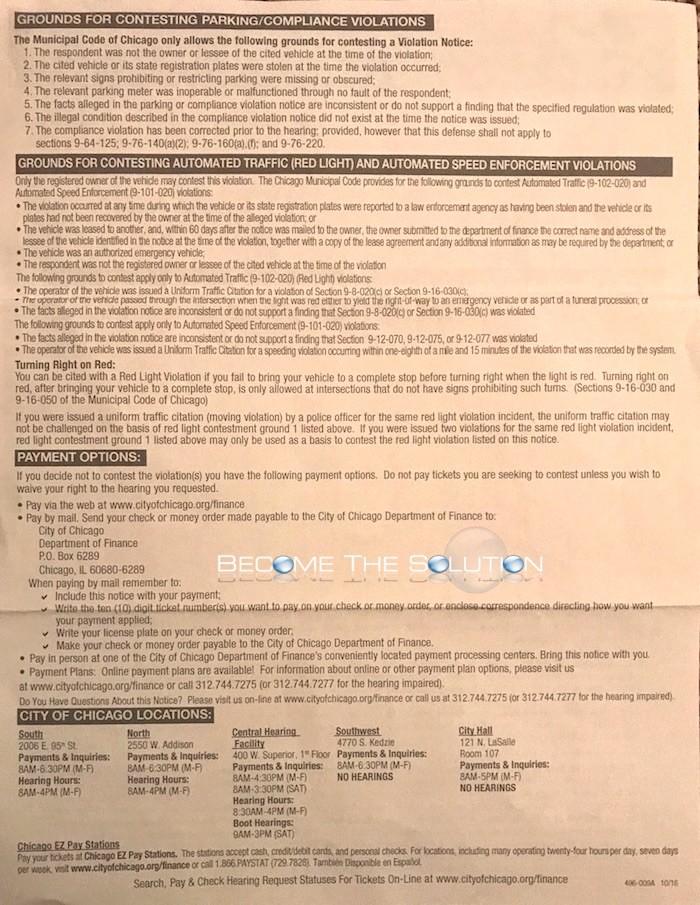 When you arrive at your hearing location, check in at the court appearance desk to find out which hearing room you will need to appear in. You will be led into a room with a podium in front of a law judge. When you are called to the podium, the law judge will explain the details of your ticket and then ask you to raise your right-hand and swear an oath to tell the truth. After, the law judge will show you the same photo evidence that was entered with your violation on the city of Chicago website. Finally, you will be able to speak to the law judge and make your case. If you brought evidence, you can show it to the law judge but ask first.
There's a very promising chance you will not be responsible for your violation ticket if you meet the following criteria.
Come prepared with any material (screenshots, pictures, documentation) you are presenting to make your case.
Be respectful and prompt to the law judge and his or her questions.
Stand firm on your contesting – no matter what is said or evidence shown, you are right and tend to prove so.
Make sure your familiar with the area you received the ticket in. This will satisfy the law judge in that you didn't seamlessly park in an area that would is known for the violation your fighting.
A final determination will be made fairly quickly and you will receive a findings, decisions, and orders paper. If you are found not responsible for the fine, the paper will read as so. See example below.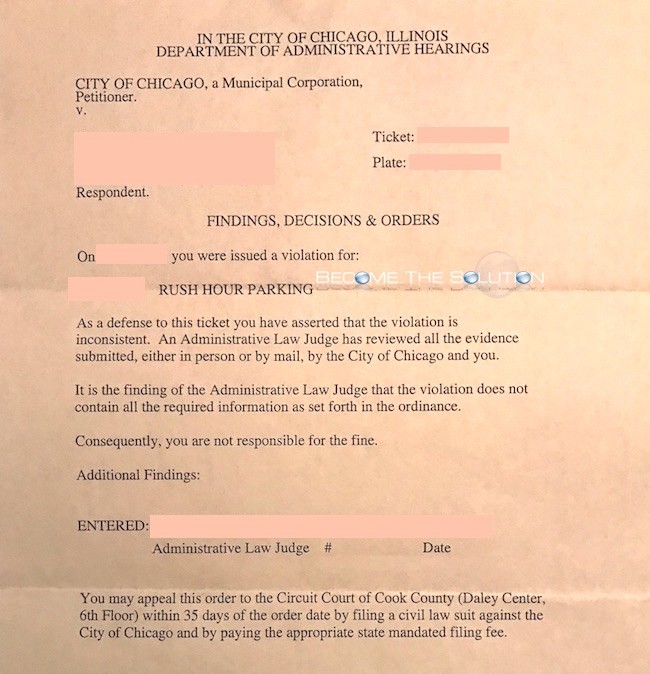 If you are found responsible, you will need to pay your violation.
Let us know your story and tips or tricks for other Chicago area residents for fighting these types of violations.
* Please use the comment form below. Comments are moderated.*
Comments
No comments made yet. Be the first to submit a comment