Starving right now? Want to fill a bag up with Taco Bell
feed
for
under
$8
that could feed a family of 4? We set out to find the cheapest and most filling
Taco Bell Items
that were under $1.
Taco Bell Dollar Cravings Menu
Taco Bell offers a
Dollar Cravings
menu that has items lined up to be inhaled for exactly $1. At the time of this article, the Dollar Cravings Menu contains the following items. These are ranked in what we believe are the
most filling
to the
least filling.



1.

Beefy Fritos Burrito - $1 (MOST FILLING)

2.

Cheesy Bean and Rice Burrito - $1

3.

Spicy Potato Soft - $1

4.

Spicy Tostada - $1

5.

Triple Layer Nachos - $1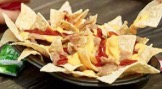 6.

Cheese Roll-up - $1

7.

Shredded Chicken Mini Quesadilla - $1

8.

Caramel Apple - $1

9.

Cinnamon Twists - $1

10.

Cinnabon Delights - $1 (LEAST FILLING)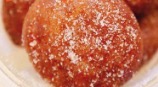 Taco Bell offers a fantastic variety of $1 items. You can cap a $1 menu meal with any of the $1 menu deserts. All that's missing is $1 drinks – but you can order a cup of free water of course.
In our Taco Bell journey, we ordered 1 Beefy Fritos Burrito, 1 3-Layer Nachos, 1 Cheesy Bean Rice Burrito, 2 Spicy Soft Potato Tacos, 1 Shredded Mini Quesadilla, and 1 Cheesy Rollup. We topped it off with about 20 packets of Hot Sauce.
Our
least
favorite
item was the shredded chicken quesadilla. It didn't taste like much of anything, it flopped around a lot while holding it, and it was easily finished in 2 bites. It was also extremely un-filling. We ate everything pictured above. We had a hard time trying to finish it. This was no doubt
the best value
for food we've seen. Everything tasted like Taco Bell normally does, so it was satisfying.
Taco Bell $7.68 Receipt