Can You Represent a Person for a Chicago Violation Ticket? Yes - Here's How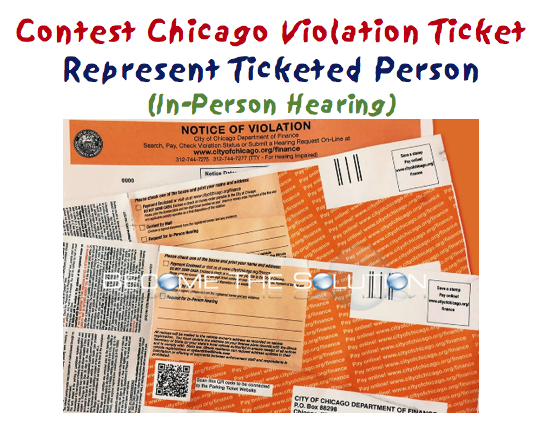 Did you or someone you know receive a City of Chicago Notice of Violation ticket for a permit, red-light, parking, or an another type of violation? If you believe you were not in violation of a ticket, you can contest the ticket in-person in order to present a defense in front of a Chicago city clerk judge. If you contest a city ticket by mail, it takes a week to receive hearing options. In addition, your hearing will be scheduled a month from when you receive your hearing options. In some instances, you might not be able to attend your hearing dates and will want someone to represent you in court. This is completely legal and is actually quite common, but not many are familiar with this.
Follow the steps below which have been confirmed by a Chicago violation officer.
Find a trusted person (i.e. friend) who will represent you and your case in front of a Chicago traffic court judge. Confirm this person is available on your hearing dates.
The ticketed person will type a letter to officially designate their trusted person as their representative in court. This letter

must be notarized

– you can find a list of nearby notary's using this link. The letter must contain the following.
Full legal name of ticketed person and representative person
The reason for why the ticketed person is unable to appear in court that day
A summary detailing why the city violation ticket was issued incorrectly
All supporting documentation for the defendant's case must be provided as well including photographs
Arrive to hearing court with the violation notice of the ticketed person, supporting documentation, and your notarized letter. Expect to read the notarized letter to the traffic judge. Be prepared to answer questions relating to the violation notice.
If the ticketed person was not in violation of a City Ordinance and a valid defense case was presented in front of a traffic judge, the ticket will be voided.
Please share with us your experience using the form below if you have been represented or were representing a person for a City of Chicago violation notice / ticket.
* Please use the comment form below. Comments are moderated.*
Comments
No comments made yet. Be the first to submit a comment