Fix: There Was an Error in Security & Privacy Preferences
When you attempt to launch Security & Privacy in Mac OS System Preferences, you receive an error message that prevents you from opening. In most cases, if you attempt to open Security & Privacy a 2nd time, it will launch. If a 2nd launch attempt does not work, follow the steps below.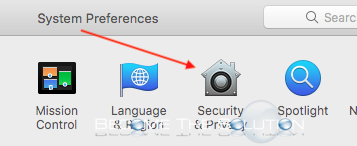 Log out of your Mac OS X user account and then log in. After, try to open Security & Privacy again.
Run Disk Utility -> First Aid on your Mac OS X volume and verify it passes consistency checks.
If the above steps do not work, perform a Mac OS X recovery install. This will re-install your Mac operating system without erasing your information and data. How to boot into recovery mode here.
Note: Reinstalling macOS from the recovery menu does not erase your data. For more information on Mac OS X recovery visit Apple's documentation here.
Related Posts