Google Autocomplete More Results
We all use Google search. As you type in Google search, Google will try guessing what you are searching for by autocompleting your words. This can be helpful in many ways. You can use Google Autocomplete to find what other users are searching for on the Internet.
You can control the amount of autocomplete results that are returned when you type. Follow these instructions.
Sign-in to your Google account (Gmail)
Go to your Google Search settings here.
Under Google Instant Predictions, change to Always show Instant results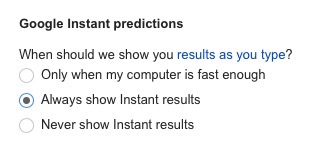 Save

Now you should see the maximum of 10 autocomplete or instant search results when you type into Google search.