Remove: Your System is Heavily Damaged by Four Virus – iPhone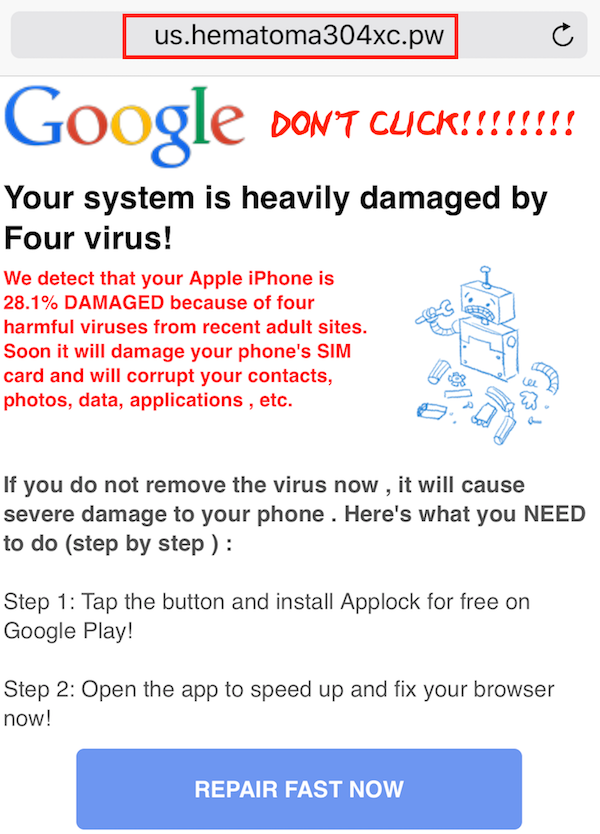 While browsing the Internet using Safari on your iPhone, you may come across a ridiculous pop-up in the background stating your system is heavily damaged by Four virus. The pop-up shows the Google icon, making it feel like an authentic message from Google, but it's not. The complete Safari pop-up text is below.
Your system is heavily damaged by Four virus!
We detect that your Apple iPhone is 28.1% DAMAGE because of four harmful viruses from recent adult sites. Soon it will damage your phone's SIM card and will corrupt your contacts, photos, data, applications, etc
If you do not remove the virus now, it will cause severe damage to your phone. Here's your NEED to do (step by step):
Do not follow the steps of this misleading pop-up. There are many people online complaining about this pop-up and it reads the same way on all other Apple iPhones. The pop-up is an advertisement for an App in the Google Play store called AppLock.
You can safely close the pop-up. If you wish to block future pop-ups like these while browsing the Internet in Safari on your iPhone, go to Settings -> Safari -> enable Block Pop-ups.
Did you receive this pop-up? Let us know using the comment form below.
* Please use the comment form below. Comments are moderated.*
Comments
No comments made yet. Be the first to submit a comment