How To: Outlook Upgrade Multicolored for Follow Up Flags and Calendar Labels
You can enable
colored flags and labels
in Microsoft Outlook by
upgrading to color categories.
Follow these steps.
1.
Right-click on your mailbox in Outlook (where your email address is) and choose
Data File Properties…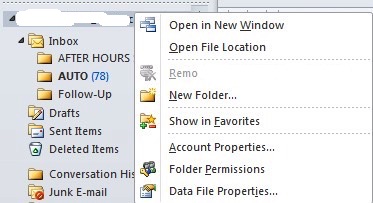 2.
Select
Upgrade to Color Categories
at the bottom.

3. You will be prompted with a message


Do you want to upgrade multicolored For Follow Up Flags and Calendar Labels in "" to Color Categories? This can take a significant amount of time depending on the number of flagged and labeled items in "", but you can continue using Outlook during the upgrade.


4. Click yes. You will notice a message at the bottom of Outlook that the upgrade is in process.
Let is finish before you see the colored flags and items.