Fix: Avaya IP Phones Waiting for LLDP Message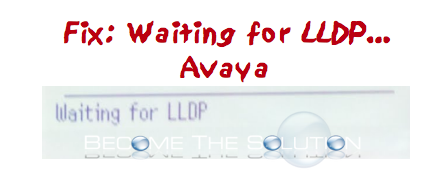 IP phones changing VLAN's will prompt for "waiting for LLDP" message on them. It is usually because the phone has the old vlan cached in it's table. Clearing and resetting the phone doesn't work. You might have to manually define the VLAN on the phone in order to update the vlan. To do this, follow these steps.


1. Reboot phone, get into phone configuration "craft" usually code.
2. Go into network and VLAN tag - add a vlan identified number for a Voice Vlan. It should say 0 before you update it, likely.
3. Apply and reboot phone.
4. Phone still might be at LLDP screen, wait a few minutes
5. Phone should come right up.
* Please use the comment form below. Comments are moderated.*
Comments
No comments made yet. Be the first to submit a comment