Why: fixme:richedit:ME_HandleMessage EM_FINDWORDBREAK: stub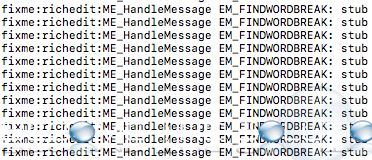 You may receive the following error(s) in Wine (wine logs) when working in Wine application. The short answer is to update to the latest version of Wine, WineBottler, and Winetricks.
However, if the errors still persist after updating, it means the errors are related to functions that the application developer has not yet implemented into Wine. These will not be fixed unless you are going to code and submit patches to Wine for the speicifc application you are using in Wine.
* Please use the comment form below. Comments are moderated.*
Comments
No comments made yet. Be the first to submit a comment