While working in your Windows desktop, you see an Interactive Services Detection message in your toolbar and a background window with the following message.
A program running on this computer is trying to display a message
The program might need information from you or your permission to complete a task.
View the message
Ask me later
This message occurs when a Windows service is trying to perform an action on your Windows Desktop. This is a feature to allow legacy Windows applications get notified when they perform an action on a Windows 7 or Vista desktop.
If you choose Show program details you can see the program that is trying to perform the action. If you select View the message you may receive a warning that Windows could not access the message. You may want to try again later. The error was: This network connection does not exist or you get a new message window with a description of the application trying to run and an error toward the bottom.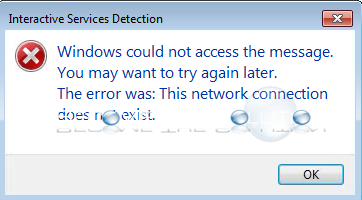 To suppress the interactive message, disable the Interactive Services Detection service in Windows services. You can follow up with the application that is trying to perform the requested action and troubleshoot the error thereafter.
Go to Start -> Control Panel -> Administrative Tools.
Select Services.
Find the Interactive Services Detection and double-click it to open. Select Disabled for the startup type.