Why: It Looks Like You're Having Trouble Logging Into Facebook – Email
Did you just receive an email from claiming to be from Facebook informing you about having trouble signing into your account?
"", get back on Facebook with one click
Hi, ""
It looks like you're having trouble logging into Facebook. Just click the button below and we'll log you in.
First, confirm the email is actually from Facebook. At the time of this article, the email should originate from a domain called *This email address is being protected from spambots. You need JavaScript enabled to view it. - see below.

If you were not trying to login to Facebook around the time you received the email, report it by clicking the let us know link. You will see a confirmation message redirecting you to Facebook.com.
Thanks For Letting Us Know
We're recorded that you didn't ask to reset your password. You can log into your account with your current password, and you don't need to do anything else.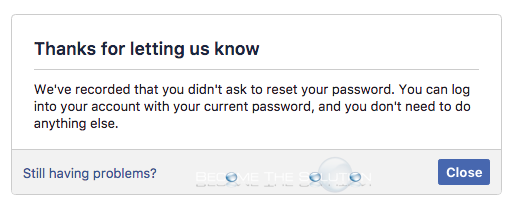 For more information, visit Facebook help center on suspicious emails if you believe you are being targeted.
* Please use the comment form below. Comments are moderated.*
Comments How do you get this to send to your email for your facebook account