Equifax, one of the three major credit reporting agencies, announced a cybersecurity incident yesterday that occurred in late July. This incident includes data on approximately 143 million United States (Nearly HALF of the United States!) consumers and includes personal data such as names, Social Security numbers, birth dates, and driver's license numbers; a small number of credit card information was also accessed. ​
This incident affects over a third of the total U.S. population. Due to the comprehensive nature of this event and the potential impact it could have on consumers, it is recommended that everyone be vigilant with financial accounts and be proactive in monitoring their identity.
Check to See if Your Information Was Compromised
Equifax has setup a new website to learn about the potential impact and how to enroll in free credit monitoring.
Scroll to the bottom of the page and click Potential Impact.

Click Check Potential Impact.

Fill out the form with your last name and last 6 digits of your Social Security Number and click Continue.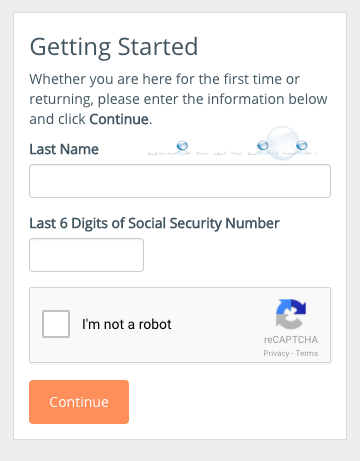 If you were affected, you will see a message stating so. You will also receive a confirmation of TrustedID Premier enrollment date and instructions for how to complete that registration.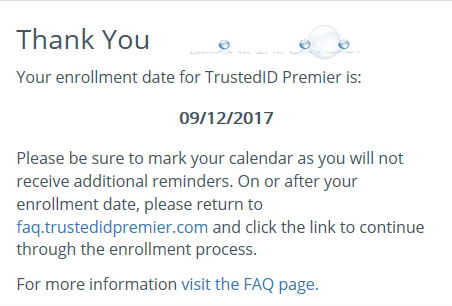 Please be sure to mark your calendar as you will not receive additional reminders. On or after your enrollment date, please return to faq.trsutedpremier.com and click the link to continue through the enrollment process.
It is also important to be aware of potential phishing e-mail messages, on both business and personal accounts, attempting to exploit those seeking monitoring services or reparations due to this incident. As with all things online, only enter personal information on websites you trust, and do not follow links from unsolicited or suspicious e-mails. To aid those potentially affected, Equifax is offering identity theft protection and credit file monitoring free of charge to all U.S. consumers.
According to Equifax: "The offering, called TrustedID Premier, includes 3-Bureau credit monitoring of Equifax, Experian and TransUnion credit reports; copies of Equifax credit reports; the ability to lock and unlock Equifax credit reports; identity theft insurance; and Internet scanning for Social Security numbers – all complimentary to U.S. consumers for one year."
Were you affected by the recent Equifax breach? Use the comment form to let us know and any different message you received from the Equifax form above.