Alexa
rank
tells you how much traffic your website is receiving versus all other websites online today (over 20 million, see
Internet Live Stats
). Alexa used to be the holy grail to measure a websites estimated performance and daily traffic. Today, there are other websites that measure website performance like Alexa including
Moz
and
SEMRUSH
. All of these sites will only include data on
an estimated basis.
To get real statistics, you should always use Google Analytics installed on your website.
Alexa rank is calculated based on the amount of traffic recorded from users over a period of three months.
Many webmasters don't consider Alexa rank because it's ranking system is skewed. It is believed if you have the
Alexa web browser toolbar installed,
you can continually refresh website pages and dramatically increase your Alexa rank this way. However, Alexa recently updated its ranking algorithm and this method doesn't seem to work like it did. If you install the Alexa toolbar, it is only supported for certain browsers at this time per below.
From Alexa:
We're sorry, but we don't have a toolbar for your browser.
* Toolbars are available for the Firefox browser on all operating systems, and for Internet Explorer on Windows. Google Chrome users can download our new Chrome extension here.

To get started, go to
Alexa Rank Checker
and type in a website. If the website is active (in the top 20 million websites online) you will see the following statistics at top.
Global Rank: This number tells you a website ranking compared to all other websites online
Rank in Country: This ranking tells you the websites highest ranking in a particular country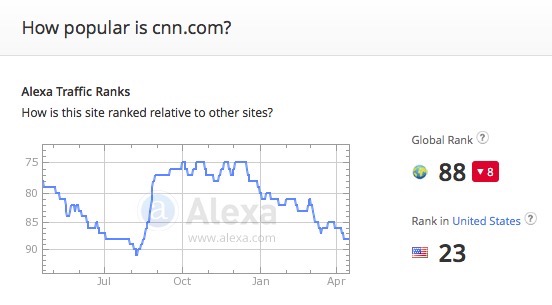 You will notice a bar at the top that states "This site's metrics are estimated". Alexa offers a priced plan you can sign up and get your website metrics "certified", however it's not known how Alexa can improve accuracy of your website traffic through this plan.
Alexa site lookup also includes details for estimated audience geography, bounce rate, daily pageviews, and daily time spent on site. In addition, you can see what keywords are being searched in search engines (primarily Google) to reach the website.
We have Google Analytics (GA) running on our website and we were intrigue to report that the Alexa Bounce Rate, Daily Pageviews, and Daily Time Spent on Site, fell pretty close to our real numbers in GA (back in 2015).
Today, Alexa lookup is still the #1 tool used to help value a website. Advertisers rely on Alexa rank in determining if placing advertisements would be worthwhile given a websites Global or regional rank in a country. Even so, serious advertisers will know to ask for Google Analytics reports of your website before making their decisions on spending money with you.
A rule of thumb for Alexa rank is described below. We have found these rankings to be accurate in terms of Global Rank reported by Alexa.
1,000,000 To get in the top 1 million
sites you will need 250-300 unique visitors a day
500,000 To get in the top half million
sites you will need 500-600 unique visitors a day
100,000 To get into the top hundred thousand
sites you need 2500 unique visitors a day
How to improve your Alexa rank?
Install the Alexa site widget
found here
. We recommend placing the widget on
every page of your website – or the pages you receive the most traffic on
. The widget reports back to Alexa every unique hit your page is getting – therefore it will be able to provide more accuracy in your rank. Within a few days you should notice your Alexa rank go up 10 – 30 percent. In the same time, it might drop down again as Alexa calculates unique visitors, returning visitors, and pageviews.
Remember to claim your website in Alexa. This is free to do and you can add a contact name, email, address, and site details.
Don't pay for traffic that allegedly has Alexa toolbar installed. Here's the bottom line: this traffic will boost your Alexa ranking – but it will only last for however long you paid for it. You will have a skewed Alexa ranking which will tip off people looking at your website and ask, why? Create rich and natural content that will bring visitors to your website!
* Please use the

comment

form below to let us know if you experience issues, have questions, or can provide solution. We want and encourage feedback. *