Solution Chicago Website Builder Week 5: Find your Website Template and Launch Your New Website
Now that we have our domain name picked out, website hosting package selected, and social media accounts registered, lets find a nice Joomla Quickstart/Kickstart template to design our website on. Joomla is a popular Content Management System we prefer over the popular WordPress CMS. It's the intermediary CMS between WordPress and Drupal in terms of popularity. Using Joomla to design your first website is an awesome way to get familiar with the world of web design & hosting.
In this example, we will be using Joomla 3.4 RocketLauncher - Grunge found
here
. Grunge uses a platform on top of Joomla called RocketLauncher, which is built on the popular framework called
Gantry
. Grunge is a free Joomla 3 template that offers a way to present simple articles with pictures on the homepage. It has a basic design concept and we enjoy the look and feel of this template for our Lamp Shade Design Website. Additionally, Grunge offers a stylish feature page to display new articles with eye-catching titles, basic menus, and an array of modules to enhance our site with added features we will get into later.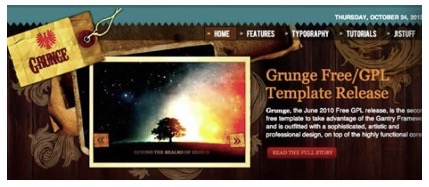 Download the Joomla 3.4 RocketLauncher Kickstart Package
Unzip the file on your desktop by double-clicking it. You will have a folder named grunge-1. The unzipped folder will contain all necessary files to launch our new website with.

We need to place these files onto our web hosting panel space, which is where we will configure our website.

To do this, we will use an FTP client and connect to our hosting package.
Download and install Flash FXP FTP client. This is an easy to use client and can be used for free in trial mode. It's Windows compatibility only, but you can get this installed on Mac X as well using Wine
Next, configure a new FTP site (your host gator FTP site) in FlashFXP

Open FlashFXP
Sites -> Site Manager
Click New Site, and name it GATOR
Now, fill in the remaining fields for your site

Connection Type: SFTP over SSH
Address: (your host gator IP address we covered earlier)
Port: 22
User Name: (host gator main account user name)
Password: (host gator main account password)
Select Apply then Connect
Now you should be logged into your main host gator web space.
You will see a few folders. The folder we are concerned with and that will host our main website is public_html
Copy the files out of grunge-1 folder we downloaded on our deskotp earlier into the folder labeled public_html.
Verify the files were copied into public_html on the server by just opening the folder itself in FlashFXP (double-click).
Awesome! Now, let's get our website configured.
If everything is setup correctly, you can type your domain name in any web browser in this format: mynewsite.com/index.php You may or may not need to append index.php. If it works, you will see the main configuration screen below.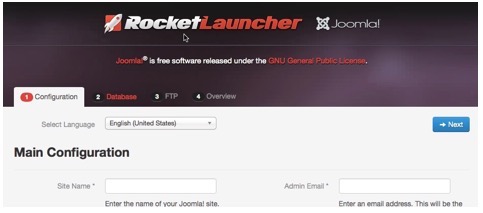 Let's start our website configuration now!
Step 1: Configuration. Enter Site Name, Admin Email, Admin usermane, Admin Password. These values can be whatever you want them to be. Admin email does not have to be a real email address either, but you should use one. The Admin password will be used to log into your website backend which we will demonstrate below.
Click Next
Step 2: Database.

Host Name: localhost or 127.0.0.1
Username: (user name of your main host gator/sql account you setup)
Password: (password of your main host gator/sql account you setup)
Database Name: GRUNGE
Leave other settings as is.

Click Next.
Step 3: FTP
Leave these settings as is. We won't need FTP access setup for the backend of our website. Click Next.
Step 4: Overview
Take a look at the settings you just setup at this screen. The important stuff will be toward bottom. Ensure your pre-installation check looks good. In the example, we see configuration.php writeable is red instead of green. Make sure it's Yes before proceeding. If you need help, comment below.
Click Install.
You will see a screen completing steps for installation and it should complete quickly.
Joomla is now installed screen
Click Remove Installation Folder
Now, visit your websites front-end: mynewsite.com and BINGO! Your site should launch and be pre-configured out of the box like below.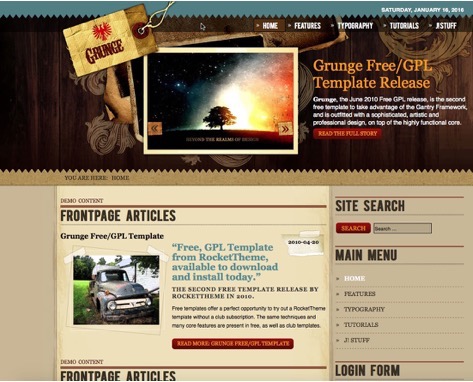 Let's login to our website backend. Go to mynewsite.com/administrator
Login with admin username and password you created above.
And welcome to your website backend. The first task you can complete is updating Joomla per the message we see here
J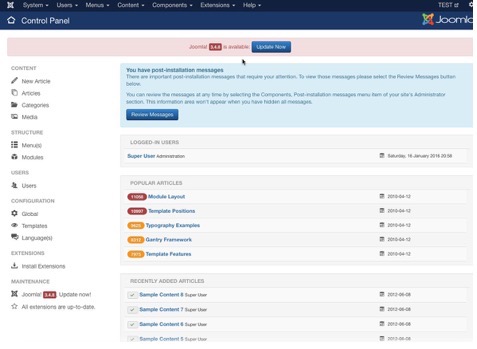 * Please use the

comment

form below to let us know if you experience issues, have questions, or can provide solution. We want and encourage feedback. *