Solution Chicago Website Builder Week 4: Purchase a Hosting Package & Getting Setup with It
There are thousands of companies online offering website packages you can purchase space from to host your new website on. Unfortunately, many of these companies are unreliable in terms of guaranteed uptime (the time guaranteed your website is made available in a fiscal year), feasibility in terms of control panels (the backend system to control your hosting package functionality), and speed (most companies charge per bandwidth and you can find yourself paying hefty fees for this.
Host Gator
is a solution to these problems. It is undoubtedly one of the most popular hosting companies on the Internet and has received outstanding reviews from reputable businesses including Fortune 500 companies. At the time of this article, Host Gator is ranked 672 with Alexa globally Host Gator offers cheap, easy, and fast hosting with no contracts. They have 99.9% uptime guarantee, an easy to use customizable control panels, and un-metered bandwidth. You can start off with a package a month for as low as $3. Let's get started with Host Gator hosting with the guide below.
Getting Started with a Host Gator Hosting Package:
Head to Host Gator Package page
Select Get Started Now then Choose a Plan
Signup for Hatchling Plan
Enter your domain name in first field

Choose a billing cycle. We can start with monthly if you are unsure.
Input Username, PIN, and Billing information below
Additional features should include the follow

Secure and Accelerate Your Site

Review Order details and checkout
Your order may take up to an hour to complete. Once it has completed, you will receive an email with login to your Host Gator Portal Panel.
Setting up Your Host Gator Portal & Hosting:
Login to your Host Gator cPanel (you should have this in an email from HostGator after you purchased your package and it's been approved)
Let's do a few pre-configuration things to help us get through our website installation easier.
Scroll to the bottom of the panel page and on the left you will see Account Information.

Take note of the IP Address which we will need to point our domain name too below.
Login to your domain registrar account here or wherever you purchased your domain from. Be sure to follow the directions provided by your registrar provider for updating your domain DNS records. This process is different for every provider.

We need to update our domains names DNS Host record to point to Host Gator IP Address.
Create a Host A record and add the Host Gator IP Address and @ for host name. If you want www.yourdomainname.com, then create a second Host A record with www as a host name pictured below.
We recommend you use one or the other (www.yourdomainname.com or yourdomainname.com) since both are different directs. We recommend without www in front.

Please note depending on your Domain Registrar, it could take up to an hour for your new IP address to associate to your Domain Name across all the Internet.
Now that we are setup with our Domain Name pointed to our Host Gator hosting solution package, let's "harden" some settings in our Host Gator panel. Hardening settings means we are going to change some options in our panel from what they are setup to by default. This will help ensure a smooth launch of our website.
Disable PHP Display Errors
In Host Gator's cPanel, go to Advanced -> PHP Configuration

Click Edit custom php.ini
Look for display_errors options and set the value to Off. We are concerned about errors, but having this on will show errors on our active website webpages, which we don't want. We can review errors in the PHP log files.

In Host Gator's cPanel, go to Software and Services -> Optimize Website
Host Gator uses the latest version of Apache. This allows a unique feature to be enabled in Apache called compress content.
Select the radio button Compress All Content

In Host Gator's cPanel, go to Advanced -> Error Pages
You can set common Web Page error messages to be a message or logo of your choice. This doesn't have to be completed now, but definitely something you will want to do later especially if you're running a business related website. While these error pages appear when there is a problem with your hosting provider, it's a nice option to customize them so your logo is seen and not a completely different page when in the event of.
Disable un-needed FTP accounts and use Secure FTP
FTP (File Transfer Protocol) is used to quickly and easily manage your website files. We will review this in more detail in the guide next week. You may or may not find yourself using FTP often to make backend changes to your site if needed so it will be necessary to get familiar with this.
In Host Gator's cPanel, go to Files -> FTP Accounts
Unless you plan to give others FTP access to help manage your websites, we should keep only one FTP account. This account should be the main account for your host package account and you can't delete it.
Use SFTP when initiating and FTP connections to your webserver. There are instructions for downloading and using SFTP and the preferred method. SFTP is Secure FTP and is encrypted. Plain FTP is extremely vulnerable.
Block IP Addresses in China & Russia
China and Russia continues to be breeding grown for malicious and hacking activity. None of our websites receives traffic from these countries nor do we conduct businesses in these countries. We highly recommend blocking traffic from these countries as a preventative strategy in helping secure your website(s).
In Host Gator's cPanel, go to Security -> IP Address Deny Manager
Country IP Address's allocations are changing every day. A good start to finding current country IP blocks is this website.
You can generate a list in CIDR format. Then, simply copy/past each line format example: 10.X.X.X/22 as a line item in IP Address Deny Manager in Host Gator and click Add.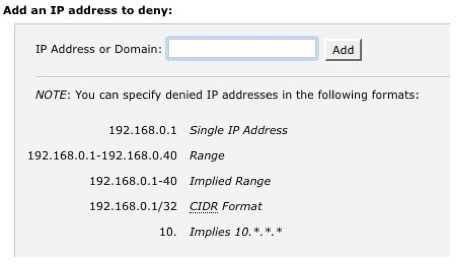 Create an SQL Database for your new site – NEEDED STEP!
If your website will contain modules that house information and several pages, chances are you will maintain that information through an SQL database. In any case, WordPress, Joomla and other major CMS systems require you to configure an SQL database for your website.
An SQL Database is essentially your website "brain bank" where it stores all your backend data including text, tables, and formatted information. Your CMS intelligently deposits information into your SQL database as your website grows and you add content to it.
Host Gator makes is simple to create an SQL database.
In Host Gator's cPanel, go to Databases -> MySQL Databases
Setup and name your new database GRUNGE. Click Create Database.
Add your main user account to the database and give it full privelages.
Select the user and database at bottom.
Click Add
Select All Privileges and then Make Changes
Now you have your SQL database created!
Awesome! We are off to a GREAT start with our new website package and domain name. Next, let's get to launching and quickly building our new website!
* Please use the

comment

form below to let us know if you experience issues, have questions, or can provide solution. We want and encourage feedback. *