E-Mail lists are one of the most powerful forms of marketing. There is a little overhead to managing email lists, which makes them one of the easiest and cleanest forms of marketing reach. There are many businesses that effectively leverage email lists. For some, it's their only form of marketing.
How will your market people to signup for your email list? You will probably have more than one way of targeting, but you should only use 1 form of targeting at once. Using multiple targeting at once will make a prospect question "why am I signing up for all of this"?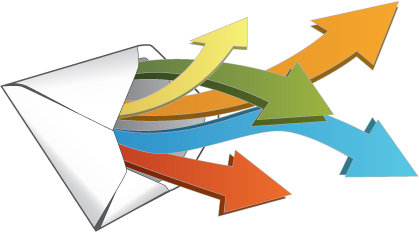 Remember to keep subscribers engaged, not bombarded. Keep a decent rotational schedule of communication. We prefer monthly contact reports. Send valuable information, for instance statistics about something that's an offering only available from your business. Sign your communication and brand it with your name/logo. The communication has to be interesting enough where you find yourself saying "I would love for this again next month." Make sure your audience anticipates your communications."
Email marketing is important.
In this age of the internet, sites offer every kind of service imaginable: e-commerce, social media and crowdsourcing, for example. But what if your business isn't solely based on the internet? What if your field or business model requires contact with people? For many businesses, email is still the most effective way to reach clients.
But why?
First, many, many, many people have email - more than 34% of people, worldwide. And then, think of how often you check your email a day. If you're like me, that's a whole lot of times. So it's incredibly easy to access people via email. Additionally, email is a viable solution for your outreach needs because of how cheap and easy it is. Many mail services as free, or, if your business is large, email is still relatively cheap. But cheap doesn't need to mean low quality! With these mail services, you can customize your email responses - giving the client a feeling of importance - which helps your business.
Email also has a tangible business benefit - it can drive sales - both in-store and online. So email marketing is definitely a business solution worth considering.
If email marketing is a solution, how can it be used in your business?
There's a number of different ways you can use email marketing as a business solution.
First, you can use it as an online business card. Whenever someone hands you "their card," you need to do something with it - if you throw it away (as I most often do), it has lost its value; if you keep it, it takes up space. But sending and email to someone (that they can save) provides them with your information permanently (plus, then you can save on business cards!).
You can also use email marketing to push a certain product. If you personalize the buying experience for the client by sending them an email tailored to them (or at least seeming so), they are more likely to buy. This is the same principle as hiring a salesman to push products at a department store or car lot.
Relatedly, you can offer coupons or other incentives via email. When I get a flashy email telling me I can save 50% on that new pair of pants I want, I always stop and think for a moment - it's hard to dismiss an offer that's right in your face. This can also drive sales.
A hypothetical situation to help understand how you can start using email marketing as a business solution - a new business in Chicago.
Say I'm starting a new business in Chicago. I probably don't have contacts to start off, but people will notice my store. And if I open up an online branch of my business, I have access to all the people in the world who use the internet. So my customer base is pretty broad.
Then, when people enter my store, I ask them if they'd like to sign up for our email newsletter, where they can get coupons and discounts. Now I'm already on working on building my base of repeat customers in the Chicago area. If they like my products, they'll be more and more likely to buy - especially with a little prodding via email.
At the same time, there's the online branch of the store. I can collect people's emails quite easily online, and it can serve the same purpose as before: gaining return buyers, the people who will drive my business.
Therefore, I've expanded beyond just Chicago - I have my customers in Chicago itself, yes, but I also have the internet denizens who I've sold to. And the people they know, and they people they know - the effect can snowball. But it certainly wouldn't be as large without email marketing.
* Please use the

comment

form below to let us know if you experience issues, have questions, or can provide solution. We want and encourage feedback. *